Come to Computer Upgraders for all your technology needs!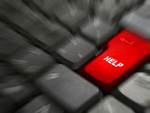 Are you seeing the "Blue Screen of Death"? Do you have a broken desktop or laptop?
We can fix it.
Do you need important data recovered? Need help backing up your current data?
We'll take care of it.
Is your computer running slow? Think you have viruses & spyware?
We can speed it up.
Does your home or small business need a computer network installed?
Call the top dog in computer repair, Computer Upgraders!
Computer Upgraders was started in 1992 to provide computer repairs and sell new computers to the residents of Sumter, Lee and Clarendon Counties, South Carolina. We offer local small businesses and home users many affordable products and services that outshines the competition!
Services

Laptop Repair

Desktop Repair

Data Recovery

Virus & Spyware Removal

Home & Small Business

Pick-Up & Delivery Services

Surveillance Systems Installation

Website Design

Products




New & Used Laptops

New & Used Desktop

New LCD Screens

Electronic Hardware

Surveillance Systems

and many Other Products!
Give us a call!
(803) 773-2881
We take all of the following:
We provide
On-Site Support


We can come to your home or business to provide On-Site Support. We will send one of our highly trained Field Technicians.

Take a look at
the Home & Business page for more information.

You can Drop-Off



Drop-Off your computer at our shop in Sumter, South Carolina during our open hours. One of our highly trained technicians can fix your computer issues.

To get directions and see
our hours of operation take a look
at the Contact Us page.

We Pick Up & Deliver



We can Pick-Up your computer and Deliver it once it has been fixed or you can Pick-Up your computer once it is fixed. Whatever works best for you!

Be sure to look at
the Home & Business page for more information.
---
To check out when Computer Upgraders is open and get directions click here!






We Work Hard for YOU!

PC Optimization and Maintenance

Increase Performance

Network Setup or Repair

Reduce Downtime

Reduce & Prevent Data Loss

Drop off or Have Us Pick Up

Technical Support

We Save You $$$

You Don't Have to Put Up With:




Slow Computers

Virus Infected Computers

Spyware Infected Computers

Broken LCD Screens

Unexpected Charges

Unreasonable Pricing

Unexplained Fixes